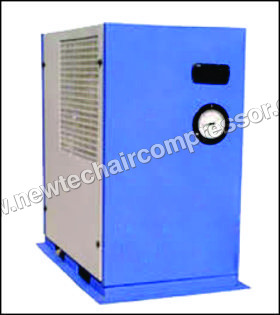 Refrigerated Air Dryer
Product Description
Refrigerated Air Dryers provide clean and dry compressor air due to effective moisture separation. Ensure a constant dew point at all load levels and will deliver a continuous dry air performance . Refrigerated air dryers provide the very best combination of high efficiency, low pressure drop and small footprint which reduces power consumption reduces installation time and facilitates maintenance.
Features
Latest Technology of aluminum plate heat exchangers.

Plate type heat exchange are compact and light in weight.

Latest technology of vacuum brazing used on the plate type heat exchangers

Heat Exchangers put to helium leak test up to 27-bar g

Optimum selection of compressor with high COP contributes to power benefits

Victaulic coupling provide on the compressed air inlet and outlet connections for easy maintenance.

Negligible pressure-drop in the refrigeration line, hence utilizing complete rated cooling capacity of the compressor.

Heat Exchangers easily retrofitted without affecting the refrigeration line. Rotolocks at the refrigerant inlet and outlet.

Refrigeration piping leak tested with electronics detectors ensuring that the leak is of the order of 3 g/year

RS 232 port with interface software provided as` an optional feature for remote monitoring.

Capacity: 5 to 85 & 85 to 10,000 cfm.

Operating Pressure: 3 to 14 bar g.
Technical Specifications:
The below mentioned Technical Specification are for the following standard conditions
Operating Pressure > 7 Bar g

Air Inlet Temperature: 45°C

Pressure Dew Point: +3°C - ISO 8573.1

Condenser Cooling Air/ Water Temp: 40°C / 32°C
Contact Us
Shop No. 2, Aditya Chls, Gun Sagar Nagar Opposite Bank Of Baroda, Kalwa West, Thane, Maharashtra, 400605, India
Phone :+918037268145