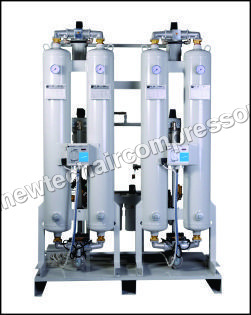 Heatless Desiccant Air Dryer
Product Description
Heatless Desiccant Air Dryer
Heatless Regenerative Desiccant Air Dryer Designed for consistent-pressure dew points, eliminate water and freeze-up in low ambient temperatures. Heatless Regenerative Desiccant Air Dryer provide clean, dry, compressed air due to effective moisture separation & extremely reliable and requires little maintenance with very few moving parts. Heatless Regenerative Desiccant Air Dryer come completely assembled, piped and wired, with a full charge of activated Alumina Desiccant, generally have a small footprint taking up less valuable factory floor space
Features
New esthetical design.

Microprocessor control panel with regulation control panel operation cycle display functions to adopt the working conditions ( dew point ) to the end user's requirements.

New pneumatics valves, high orifice, easy to maintain, designed for heavy duty controls.

Slow re-pressurization prevent bed lifting abrasion and extends desiccant life.

Designed for adverse conditions at 45oC compressed air.

Temperature and maintains (-) 40oC dew point @ 0.3 bar pressure difference.

Capacity: 10 to 1000 cfm.

Operating Pressure: 3 to 14 bar g.
Contact Us
Shop No. 2, Aditya Chls, Gun Sagar Nagar Opposite Bank Of Baroda, Kalwa West, Thane, Maharashtra, 400605, India
Phone :+918037268145