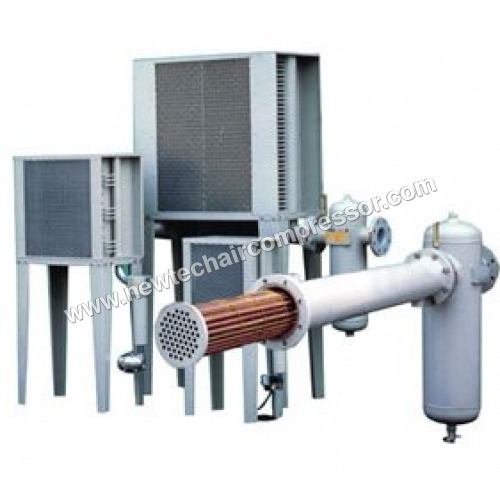 Air Cooled Heat Exchangers
Product Description
AFTER COOLERS / HEAT EXCHANGER
The compressed air discharged from an air compressor is hot. Compressed air at these temperatures contains large quantities of water in vapour form. If this is not removed, much of it will condense in the distribution system and cause expensive damage to all the equipment and processes, which use the air. As the compressed air gets cooled in the after-cooler, where the cooling media is the ambient air or water from a cooling tower, the water vapour condenses into a liquid form. As an example if an after cooler is not used, a 200 SCFM compressor operating at 7bar(g) introduces 170 - 240 liters of water into the compressed air system each day.
i) WATER COOLED AFTER COOLER
Water Cooled after Cooler with Moisture Separator is a shell and tube Heat-Exchanger which reduces the temperature of compressed air and gas as a result moisture from the compressed air is separated. Cooling is done by circulating water from the opposite side of the compressed air inlet in After Cooler. The After Cooler is designed in such a way that the cooling water passes through the shell in turbulent flow. Resulting in maximum that heat dissipation from the compressed air and hence more quantity of moisture is separated in Moisture Separator.
TYPE :- VERTICAL & HORIZONTAL
ii) AIR COOLED AFTER COOLER
Air cooled After Coolers are of fin-tube construction with the compressed air passing through the tube. Air Cooled After Cooler transfer the heat from the compressed air to the atmosphere. The compressed air
is cooled using a cooler fan.
Salient Features
• Working pressure ‐ 16 bar
• Fully enclosed Heat exchanger.
• Compact Size.
• Low power consumption
• Easy for installation
• Continuous duty motor with Aluminium / highly reliable plastic fans.
Contact Us
Shop No. 2, Aditya Chls, Gun Sagar Nagar Opposite Bank Of Baroda, Kalwa West, Thane, Maharashtra, 400605, India
Phone :+918037268145